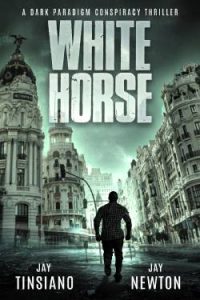 Half a world away in Spain and running from his past, a Los Angeles gangster unwittingly takes a train that's headed straight into a terrorist attack. He survives only to face an even deadlier threat.
On that same train: a pathologist with clues to a deadly epidemic. Did his secrets die with him in the strike?
Raging in the aftermath, a foul-tempered police chief with a daughter caught in the attack thirsts for revenge. But against whom?
An orphan child without a name, disappears down a dark, illegal CIA mind-control program. Now trained in the ways of death, he prepares to do his master's twisted bidding.
From its first pages, the relentless techno-thriller White Horse drops you with a thunderclap in the middle of these colliding worlds. This tale of global conspiracy that threatens humanity itself will keep you guessing whether anyone can survive.
Paperback edition:
ISBN: 978-1-9162397-4-6