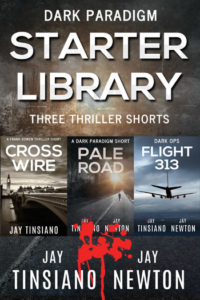 Join the Dark Paradigm insider reading group and get the Dark Paradigm Starter Library delivered to your inbox! Plus you will receive Dark Paradigm newsletter featuring top intel, news, book release details and offers as well as the inside story behind Dark Paradigm.
Three Dark Shorts from the pens of Jay Tinsiano and Jay Newton
Cross Wire:
Frank Bowen is tasked with tailing a terrorist financial asset through the streets of London. It is a simple task to keep ears and eyes on the target. Then he witnesses something that will be seared into his memory forever.
Flight 313 (Dark Ops #1)
A group of men board flight 313 with the equipment and means to hijack the aircraft.
An air marshal who hasn't seen action for years finds himself dealing with a group of terrorists.
It's his chance to be a hero.
Except, nothing is as it seems.
A short military conspiracy thriller that will keep you guessing.
Pale Road
In the wake of the 'event', Ed Howley struggles to secure food for his family.
Danger and fear are his constant companions during his frantic attempt to survive as society breaks down.
Pale Road is a short post-apocalyptic story.
We never spam and never pass on your email address. You can opt-out at any time. Read our privacy policy here.