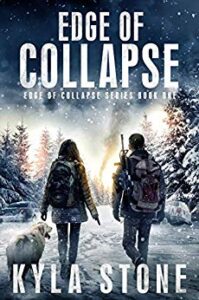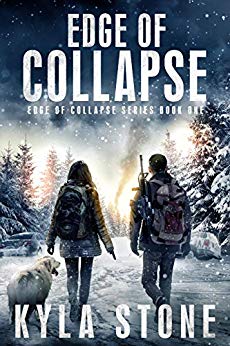 Edge of Collapse: A Post-Apocalyptic EMP Survival Thriller by Kyla Stone is the number one bestseller in teen and young adult apocalyptic and post-apocalyptic eBooks on Amazon right now due to how great this book is. This is a wonderful read with just a few minor issues.
This book revolves around when an EMP destroys the nation's power grid during one of the coldest months in history! With no electricity, technology, or cars, as expected – the whole country is plunged into mayhem and anguish. However, it was a miracle for one girl (Hannah Sheridan) because the EMP had released the lock of her prison cell. Hannah had spent the past five years as a prisoner of an absolute psychopath with sadistic tendencies.
As she ventures out into the world once again with nothing but hope, determination, perseverance, and some clothes, the climate is shockingly cold, and she realizes it will be hard for her to survive this weather. The winter landscape is not the only thing she will have to survive – her captor is not willing to let her go so 'easily'. Hannah meets with a character named Liam, and they venture and survive together…
The structure of Edge of Collapse is wonderful. Each chapter switches to the perspective of a different character, which to a reader, allows the book to make more sense and get a stronger grasp of how the situation is affecting all the characters. The majority of the chapters are told from Hannah's and Liam's perspectives, and you certainly find yourself rooting for their survival. A few chapters are told from Gavin Pike's perspective, who is the capture, and these chapters are a very interesting read and essential to understanding the story. 
Kyla Stone is a master of characterization! Each of the characters is multi-dimensional with their own individual quirks, personality traits, and development throughout the novel. The character of Gavin Pike is very interesting as he is a psychopathic, cruel, and cold sadist. As a result, it is intriguing to find out more about his thought processes. A stand-out quote to show Pike's psyche is: "The world was divided into predator and prey. The rules society erected for itself were shams, civilization only as mask meant to hide the violent, brutal truth – men were made to kill."
Anyone who is a fan of apocalyptic, survival, and dystopian thrillers will love this book, as it contains everything you would want from this genre within it. This book perfectly blends action and violence with the emotion and development of the characters.
As expected from the apocalyptic genre – Edge of Collapse is tension-filled. As a reader, it makes this book irresistible and falls into the trap of 'just one more chapter' – and five chapters later, you still have no intention of putting it down! The descriptions of the wintery landscape are marvellous, and you feel almost cold yourself as the writer successfully transports you to this universe.
One of the very few issues about this book is that it can be repetitive at times. The first few chapters about Hannah tend to repeat the same descriptions about her and describe very similar occurrences in her life in regard to her capturer. Whilst this is necessary to understand her backstory and character – one chapter describing it would have been sufficient for displaying this.
Besides the long-winded introduction to Hannah, this book then takes on a fast-paced telling of the events that occur. This suits the book much more and covers a lot of ground.
In addition,  as a reader, you must be warned that there is a lot of brutality and abuse described in this book. I do think there should be some 'trigger warning' about it at the beginning of the book or on the blurb in case readers do not want to be exposed to that sort of content. I was not expecting lengthy descriptions of abuse towards humans and animals, so I do think the publisher or author should have considered a warning.
This is the first book in the series. As soon as you put this novel down, you will be eager to move on to the next! I am excited to find out what happens next and how this series progresses.
Overall, I highly recommend Edge of Collapse by Kyla Stone if you are interested in this genre. I rate it 4 stars out of 5!
Meg Bolland