With a sturdy nod to the sci-fi comics of yesteryear (that'd be 2000AD for us Brits), 'The 77' retro anthology burst onto the comics scene, all laser guns firing, in the Spring of 2020.

Supported by a series of successful Kickstarter campaigns, The 77 has been voted 'Best Independent Comic' and 'Comic Scene Top 10 comic of 2020' and is very much looking to be a much needed shot in the arm for sci-fi comics.
Artists and writers have included many from the stable of talent of 2000AD alumni including Steve Bull, Steve MacManus, Mike Collins, Mac, Steve Austin, Kek W, Conor Boyle and Annie Parkhouse. Other stand-out artists and writers include Ade Hughes, co-creator with Pat Mills on SF1 in Spacewarp comic, Bambos Georgiou (Marvel, Starblazer, Aces Weekly), Gary Burley, Dave Heeley, Sinclair Elliott, Michael Powell, Lew Stringer and many many more!

There's enough startling sci-fi and fantasy mayhem packed inside the covers to keep any fan of the genre blown away.

I asked The 77 Editor, Ben Conan Cullis where the idea for the comic anthology came about:

"It's brilliant that you should be the one to ask this question, Jerry as you and I started doing comics over 30 years ago and of course 1977 might be a clue as to the origin of my desire to do so.

I found a copy or two of Subterranean magazine that you edited from back in 1987 and I pencilled some pages along with Tom 'Inkie' Bingle and a really talented guy called Dave Steele. I went to do my own and did some stuff for a well-known skating zine, Skate Muties from the 5th Dimension, then some 'Bugs and Drugs' and eventually this led to a ten-year stint in film, TV and animation.
Ever since then, I've dreamt of getting back to my first love, and through my Facebook group 1977-2000AD I had the opportunity to get a team together and work with some amazing creators and it's just grown from there!"

Continuing a theme from previous issues, the upcoming issue #5 features variant covers that will delight those hardcore collectors. Issue #5 is on general release May 17th 2021 and you can read an excellent post on the development of one of the variant covers by Andrew Sawyer here.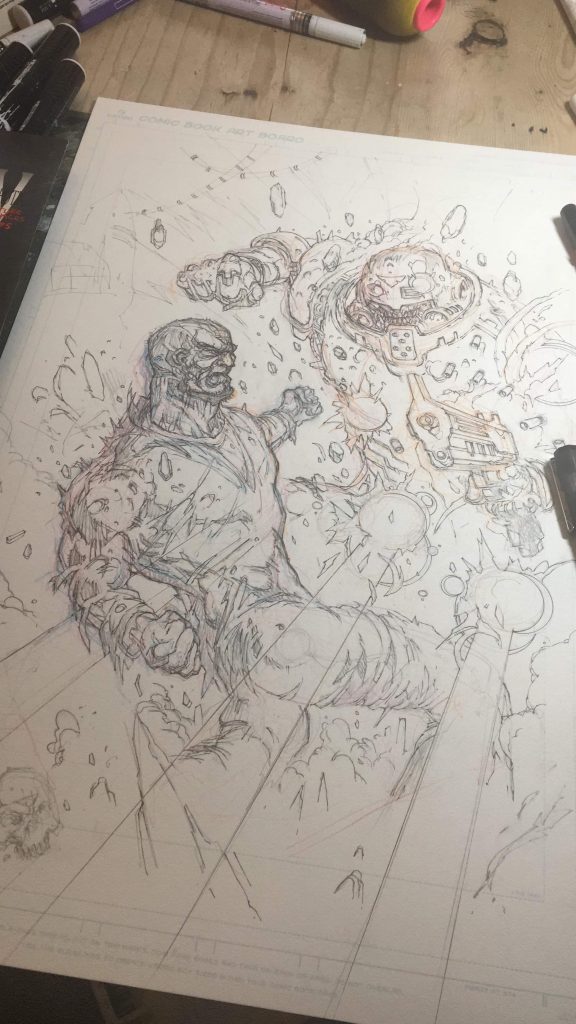 Issue #5 features:
'Extinction 2040' by Paul Goodenough and Ian Stopforth
'Division 77' by Created by Dave Heeley and Sinclair Elliott. Artwork by Gary Burley (debut)
'I know the secret of the Alien' by Michael Powell (The Last Man and Matilda) and Mike Collins (Marvel/Doctor Who)
'V' by Steve Bull and Ade Hughes (Pat Mills' Space Warp)
'Trackless Depths' by Dave Bedford (Tempered Curse, Trompe la Morte) and Mac (2000AD)

and many more fantastic stories packed inside.

Other projects from The 77 Publications include a spin-off title called Blazer by 2000AD/Crisis legend Steve MacManus and a new title named, Pandora, headed up by Jo Heeley, which is planned for Spring 2022.

The 77 Shop: https://the77comic.bigcartel.com/
Facebook: https://www.facebook.com/groups/1772437999562985
WordPress: https://the77comic.wordpress.com/