Here is our pick of sci-fi thrillers for 2023 – all are newly released or available to pre-order!
Critical Mass by Daniel Suarez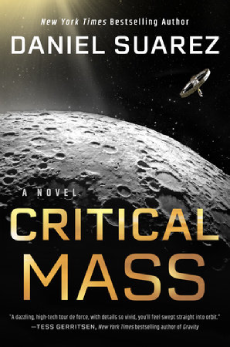 The latest release from bestselling author Daniel Suarez is a page turner. Full of innovative engineering and political tension, this book will have you hooked from start to finish.
From the Publisher:
In New York Times bestselling author Daniel Suarez's latest space-tech thriller, a group of pioneering astropreneurs must overcome never-before-attempted engineering challenges to rescue colleagues stranded at a distant asteroid—kicking off a new space race in which Earth's climate crisis could well hang in the balance.
When unforeseen circumstances during an innovative—and unsanctioned—commercial asteroid-mining mission leave two crew members stranded, those who make it back must engineer a rescue, all while navigating a shifting web of global political alliances and renewed Cold War tensions. With Earth governments consumed by the ravages of climate change and unable to take the risks necessary to make rapid progress in space, the crew must build their own nextgen spacecraft capable of mounting a rescue in time for the asteroid's next swing by Earth.
In the process they'll need to establish the first spin-gravity station in deep space, the first orbiting solar power satellite and refinery, and historic infrastructure on the moon's surface—all of which could alleviate a deepening ecological, political, and economic crisis back on Earth, and prove that space-based industry is not only profitable, but possibly humanity's best hope for a livable, peaceful future.
The Archive Undying by Emma Mieko Candon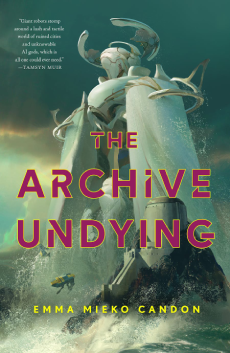 In her debut into the world of mecha fiction, war machines and AI gods run riot Emma Mieko Candon's The Archive Undying.
From the Publisher:
WHEN AN AI DIES, ITS CITY DIES WITH IT
WHEN A CITY FALLS, IT LEAVES A CORPSE BEHIND
WHEN THAT CORPSE RUNS OFF, ONLY DEVOTION CAN BRING IT BACK
When the robotic god of Khuon Mo went mad, it destroyed everything it touched. It killed its priests, its city, and all its wondrous works. But in its final death throes, the god brought one thing back to life: its favorite child, Sunai. For the seventeen years since, Sunai has walked the land like a ghost, unable to die, unable to age, and unable to forget the horrors he's seen. He's run as far as he can from the wreckage of his faith, drowning himself in drink, drugs, and men. But when Sunai wakes up in the bed of the one man he never should have slept with, he finds himself on a path straight back into the world of gods and machines.
The Archive Undying is the first volume of Emma Mieko Candon's Downworld Sequence, a sci-fi series where AI deities and brutal police states clash, wielding giant robots steered by pilot-priests with corrupted bodies.
Come get in the robot.
Wild Massive by Scotto Moore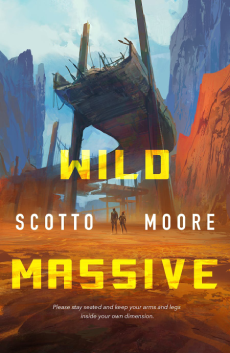 Lose yourself in Scotto Moore's Wild Massive; brimming with secrets and lies, the tension of this novel will keep you turning the pages.
From the Publisher:
Welcome to the Building, an infinitely tall skyscraper in the center of the multiverse, where any floor could contain a sprawling desert oasis, a cyanide rain forest, or an entire world.
Carissa loves her elevator. Up and down she goes, content with the sometimes chewy food her reality fabricator spits out, as long as it means she doesn't have to speak to another living person.
But when a mysterious shapeshifter from an ambiguous world lands on top of her elevator, intent on stopping a plot to annihilate hundreds of floors, Carissa finds herself stepping out of her comfort zone. She is forced to flee into the Wild Massive network of theme parks in the Building, where technology, sorcery, and elaborate media tie-ins combine to form impossible ride experiences, where every guest is a VIP, the roller coasters are frequently safe, and if you don't have a valid day pass, the automated defense lasers will escort you from being alive.
Wild Massive: The #1 destination for interdimensional war.
The Deep Sky By Yume Kitasei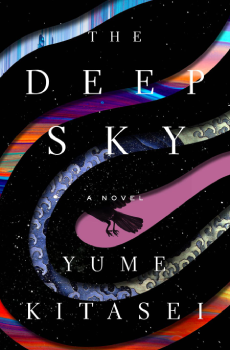 After a lethal explosion during a mission into deep space, it is a question of loyalty in Yume Kitasei's gripping sci fi thriller debut.
From the Publisher:
To save humanity, they left everything behind—except their differences.
It is the eve of Earth's environmental collapse. A single ship carries humanity's last hope: eighty elite graduates of a competitive program, who will give birth to a generation of children in deep space. But halfway to a distant but livable planet, a lethal bomb kills three of the crew and knocks The Phoenix off course. Asuka, the only surviving witness, is an immediate suspect.
Asuka already felt like an impostor before the explosion. She was the last picked for the mission, she struggled during training back on Earth, and she was chosen to represent Japan, a country she only partly knows as a half-Japanese girl raised in America. But estranged from her mother back home, The Phoenix is all she has left.
With the crew turning on each other, Asuka is determined to find the culprit before they all lose faith in the mission—or worse, the bomber strikes again. Now, in order to survive, she must burn brighter than the stars that surround her.
Quantum Radio by A.G. Riddle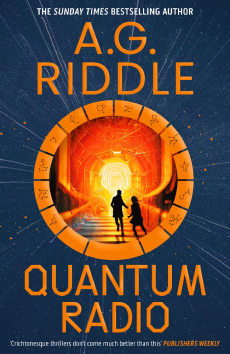 After a scientist at CERN makes a breakthrough discovery that may answer the deepest questions about human existence, but the encoded message is far more dangerous than he ever imagined.
From the Publisher:
Dr. Tyson Klein is a quantum physicist who has dedicated his entire life to his research. At CERN, he analyses data generated by the Large Hadron Collider, the world's biggest and most powerful particle accelerator. Now, Ty believes he's found a pattern in its output. It looks like an organised data stream, being broadcast over what he calls a quantum radio.
Could it be a signal from another universe? A message sent from the future? Or something else entirely?
As Ty peels back the layers of his discovery, he learns that what he's found isn't what he thought it was. The encoded message is far more profound. It may alter our understanding of human existence and the universe.
But Ty is not the only one looking for it. Someone has been following his research for a long time. And they'll do anything to prevent him from unravelling what is being broadcast by the quantum radio…
Because the first one to discover the truth may well control the future.
The Terraformers by Annalee Newitz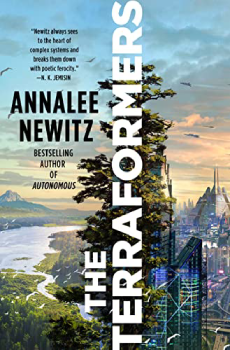 The Terraformers is the newest release from sci-fi visionary Annalee Newitz. Much anticipated by sci-fi fans everywhere, you will be unable to put this thought-provoking novel down.
From the Publisher:
Destry's life is dedicated to terraforming Sask-E. As part of the Environmental Rescue Team, she cares for the planet and its burgeoning eco-systems as her parents and their parents did before her.
But the bright, clean future they're building comes under threat when Destry discovers a city full of people that shouldn't exist, hidden inside a massive volcano.
As she uncovers more about their past, Destry begins to question the mission she's devoted her life to and must make a choice that will reverberate through Sask-E's future for generations to come.

Feature image by Sebastian Kanczok on Unsplash