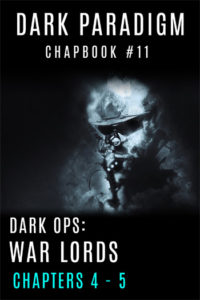 The Dark Ops: War Lords mini-series is well underway in the previous few Dark Paradigm chapbooks.
Chapbook #11 features Chapters 4 and 5 from Dark Ops (#3) mini-series: War Lords.
The team deploy in a Sikorsky S-97 Raider to get them into Iran once again, under cover of darkness and under the radar. Once on the ground, they head to Marand to meet an Iranian contact who has the equipment they'll need for this dangerous mission. The unasked question is: can he be trusted?
Meanwhile, Darvish and the Iranian Quds unit assigned to him prepare to storm a suspect apartment in their hunt for the suspected 'Great Satan' infiltrators.