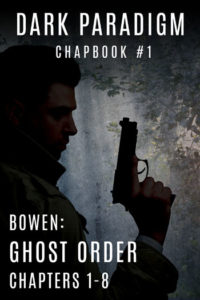 Dark Paradigm Chapbooks will replace the previous magazine and is now available for $2 Patreons.
In this bumper issue, we have the first eight chapters of Ghost Order, from the third Frank Bowen conspiracy thriller.
Frank Bowen is pulled back into the Dark State once again. Only this time he's playing both sides. Hired by John Rhodes, founding father of the Liberatus movement as well as his old agency, Ghost 13, Frank soon finds danger around every corner.