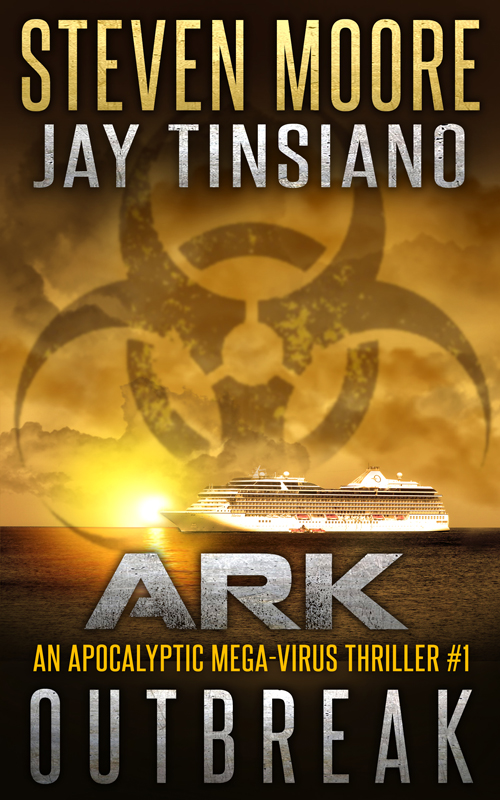 Announcing a new release! Jay Tinsiano has been working with Steven Moore on an exciting new series. Book 1 is ARK: Outbreak, a Mega-virus Apocalyptic Thriller.
The timing is, of course spooky with current headlines.
Here's a quote from Steven in his fan newsletter in reference to this:
"Some people might think it callous of us to write a book that details human suffering because of the deadly virus. The truth is, we finished the first draft of this book several months ago, long before the outbreak of this Coronavirus. In fact, I first had the idea for this series whilst on a cruise myself, 14 months ago. Yes, whilst in the port of Saint Lucia, which features in the book. It is purely coincidence that the real outbreak is happening at this time, and it is not our intention to capitalise on this tragedy. What it does show is just how scary the real world has become. The irony for me is that, today, on the day of my big launch, I'm typing this sitting here at my desk in Ulsan, South Korea, less than 50 miles from Daegu where the city is in meltdown."
Stay safe, Steven!
Here's the low down:
The world thought Coronavirus was bad…They were very, very wrong!
A lethal mega-virus. A cruise ship in chaos. An unlikely saviour.
On a dream anniversary cruise with his wife Shelly, Craig Nicholls finds himself in the midst of anarchy as a deadly pandemic spreads across the globe.
On the luxurious Sapphire Star, many hundreds of passengers succumb to the deadly mega-virus, including the Captain, and as the crisis mounts, with nowhere to dock and an overwhelmed medical staff unable to cope, Craig witnesses society collapse in the face of chaos.
Craig crosses a brash Texan oilman with an army discharge record, who senses an opportunity to take control, using whatever means necessary.
Third Officer Balzan owes his glamorous career to his gangster roots. But the payback required will bring terror and probable death for Craig, Shelly and every survivor on the doomed ship.
Like it or not, Craig realises he's the only hope to stem the onboard outbreak, stop the Texan's violent coup, and save the last survivors from the lethal threats of piracy and…
The worst virus humanity has ever known.