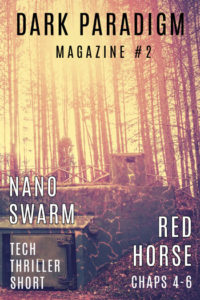 Dark Paradigm magazine #2 is out for Patreons.
We decided to give special subscribers advanced peeks at early draft chapters from our current projects as well as extra bonus stories.
This second issue gives you the next three chapters of Red Horse (4-6), due for release in the latter part of 2017.
Also Part 1 of Nano Swarm, an exclusive new short story.
Patrice Hicks and her small engineering team have been forced to work at the secret Cryostone facility since being snatched from Flight 313. Now their deadly project has reached completion.
While a 'sacrificial' army unit prepares for an exercise, unknowingly taking part in an experiment, Patrice has a plan to get her colleagues out of there.
This is an advanced copy for special subscribers only.
Link: